FallerBars Limited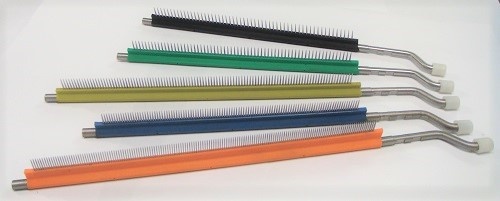 FallerBars manufactures in Bradford, UK.
We produce three main products
Unpinned steel faller bars for the NSC Schlumberger Chain gills GC12 through to GC30
Press fit inserts for the above
Disposable Astrotec faller bars for NSC Schlumberger Chain gills GC12 through to GC30
These are available for 220mm and 270mm pinned field, High back and Low back from 2.5 pins Round per cm through to 7 pins flat per cm.
The above are suitable for the Sant Andrea CSN chain gills.
A limited range of inserts available for GN screw gills, Cognetex, Mackie and HMG
Chain – we are very successful supplying the triple chain for the GC Chain gills.
We export our fallers to our clients in:
Argentina, Bolivia, Chile, Ecuador,Columbia, Mexico, Peru, Uruguay, USA
Egypt, Kenya, South Africa, India, Korea, Indonesia,New Zealand, Nigeria
France, Germany, Italy, Belgium, Poland, Austria, Czech Republic,
Turkey, Romania, Bulgaria, Russia, Portugal, Slovakia, United Kingdom
Please ask us for a quotation and or samples of your next production requirements and we shall be pleased to quote price and delivery times.